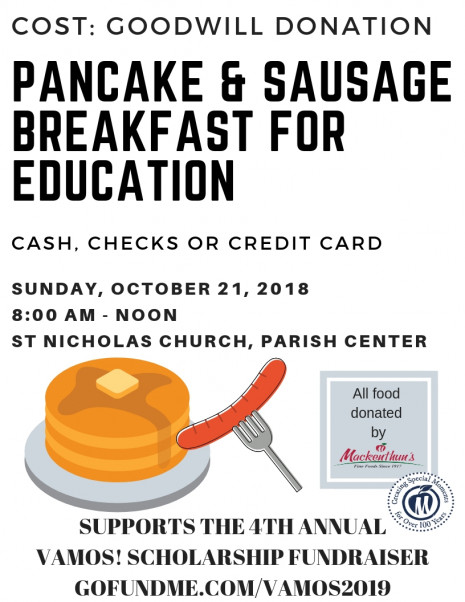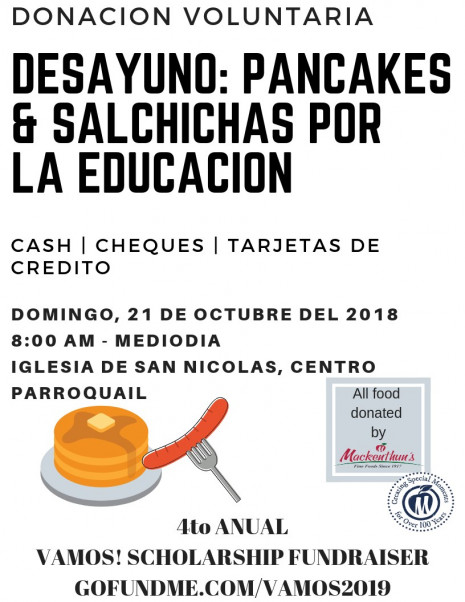 ABOUT THE VAMOS! SCHOLARSHIP PROGRAM

WHAT IS THE MONEY FOR?
Scholarship for brilliant Hispanic students in our community. Let's change lives, let's #dogood!

WHY? Because we all need a helping hand, at some point in our lives, and because we believe in karma, and we must do good with what God gives us.

HOW MUCH OF MY DONATION GOES TO THE CAUSE?
The only expense we have to pay for, is the GoFundme Commission for transferring the money donated directly to the District 112 Foundation, which is about 3.5% of the total donations. Other expenses are covered by our generous Sponsors or our money :)

WHO ARE THE RECIPIENTS? 100% of the proceeds go to benefit Hispanic students in the School District 112 in Carver County Area.

Together, we can continue empowering color communities to achieve their full potential through education in College.

For the 4th time, we have partnered with the District 112 Foundation who is our Fiscal Agent. All donations are tax deductible. We operate as Volunteers 100%, so all the money goes to this worthy cause!

The School District 112 will help us disburse all the funds to the students thru the school system.

2015-2,300 were raised.
2016-$5,000 were raised.
2017-$5,300 were raised.

Last year five (5) x $1,000 scholarships were distributed to five brilliant Senior students from Chaska High School, MN.

To apply for these scholarships, the students are asked to write a brief essay, sharing how this money will enable them to accomplish their goals.

We also, consider other factors such as, academic excellence, community involvement, their personal stories and how they would like to give back to their community as professionals.

We have read their stories and we realize that many of these young students need to be reassured they can do whatever they set their mind, time and energy.

HOW DOES THAT BENEFIT YOU AND THE COMMUNITY?

Simply put, it will help create more entrepreneurs & qualified professionals for good companies, it will empower more people to take part of the business life, political life and to create a better community, safer for all of us and our children.

The students who will receive the scholarships, are very hard working talented students, who need a hand to make their dreams come true. Despite many challenges, I see this beautiful land and it's community, being able to create opportunity equally for all, a community where people from different backgrounds, color, religion, and ideas can live together, work together, create together, innovate together for a better society.

Truth is, we ALL needed some help at some point in our lives, now it's our time to give back and let these brilliant students know we believe in them, we are there with them, because everything starts with a dream.

Is my donation tax deductible?
Absolutely! we have partnered with the District 112 Foundation and they are a 501(c)3 Non-for-profit. All donations are tax deductible.

Are you in? Yes? GREAT! what do you need to do?

Attend our Pancake & Sausage Breakfast Fundraiser and bring all your friends and family.

Want to check out the 2018 3rd Annual Vamos! Scholarship Fundraiser recap?
FOLLOW OUR NEW FACEBOOK PAGE.
WE ARE ALSO ON INSTAGRAM

Who is behind this initiative to help close the #Educational Gap and why are we doing it?

Hello, my name is Juan LLerena. I am a Waconia resident. I have been living in Carver County for 18 years with my wife Guisela and our 2 daughters Gabriela (16) and Bianca (14).

As a family we have a passion for volunteering, social business and a great interest for social projects that have an impact in multicultural relations.

I believe that working together with the community as a whole, we all can build a better place to live for everyone, by sharing our experiencies, where everyone benefits from the different flavors, colors, sounds and points of view we all bring with our very own diversity.

Our vision is to empower minority communities to close the achievement gap in education, gender, income and business. We can achieve this by educating our communities and educating our children. I am a proud Latino and Hispanic!

Of course, we have many friends, donors and supporters who help us make this vision a reality, without them this simply wouldn't happen.

Can't make it to the Breakfast Event? No problem! You can make a contribution by donating at: https://www.gofundme.com/vamos2019

Thank you.
Mass Schedule
English
Fri

6:00pm

Sat

4:00pm

,

7:00pm

Sun

9:15am

Mon
No Mass
Tue

7:00am

Wed
No Mass
Thu

7:00am
Spanish
All Services