St. Nicholas Prayer Garden
Support our prayer garden (Updated Link)
---
Prayer Garden News
2022 Prayer Garden Video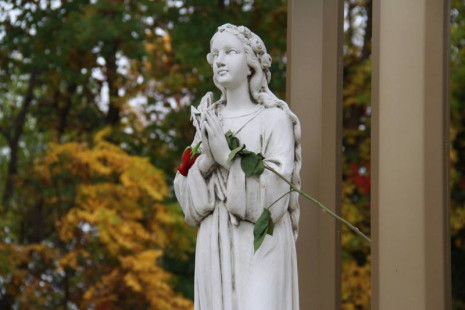 Past Prayer Garden Videos
Pictures from the July 11, 2021 Our Lady of Guadalupe Statue Dedication can be found at this link.
---
Everyone is welcome to enjoy the serenity and peacefulness of our prayer garden. We invite you to enjoy the sweet fragrance of hundreds of roses in full bloom. If the spirit moves you, we welcome all volunteers of any interest or skill level as we have many opportunities. Please contact Debra or Jason at the Guardian Angels Parish Office at 952-227-4000 for further information.
---
Welcome to the St. Nicholas Prayer Garden! Located on the bluffs of Carver, Minnesota, the garden is founded in the spirit of St. Nicholas, St. Mother Teresa, and many holy men and women. Our Prayer Garden features giant boulders that support one another as an affirmation of how we support one another. With its circular pathways and winding characteristics, the St. Nicholas Prayer Garden reminds us of Jesus' desire to welcome, envelop, and embrace everyone in His circled arms. Our historic church in Carver thrived over the past century by remaining authentic to old traditions and adapting with new ones. Like Our Lady of Guadalupe welcoming Juan Diego on the hills of Tepeyac, you too will feel welcomed at our Prayer Garden. Pope Francis deeply desires that all be soaked with God's love. At this place of prayer, you will be drenched in God's love. Whether you are physically present or visiting the St. Nicholas Prayer Garden online, you become part of the strength of this endeavor, just like the strength of the rocks that hold our Prayer Garden together. Your participation will enable you to be a spiritual and symbolic boulder. Those who visit the St. Nicholas Prayer Garden return home smiling. St. Mother Teresa of Calcutta often said, 'Let no one come to, going away, not feeling, better and happier.' Your willingness to lovingly support this place of prayer makes other pilgrims feel better and happier. May the words that Mary, Our Lady of Guadalupe, spoke to Juan Diego also be the words you hear in the garden: 'Am I not here, I who am your Mother? Are you not under my shadow and protection?' Welcome to 'God's City set on the hill.'
---
August 2019 Prayer Garden Video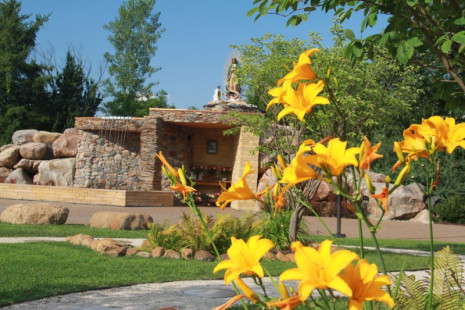 May 10 2019 - River valley view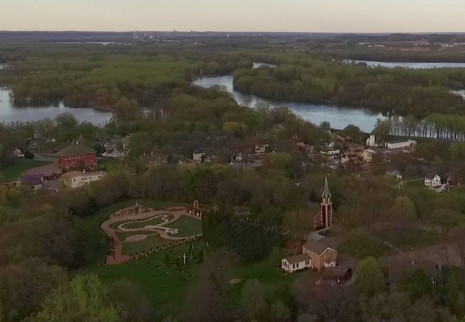 October 14 - Completion of St. Jude.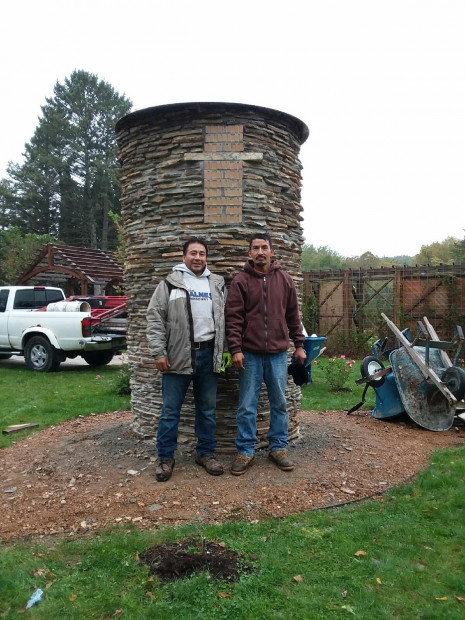 June 6 2018 This past week we started the installation of the fence material on the hedge wall so that the plants have something to grow on. Thanks to the volunteers who came to help with this! We also appreciate the others who have offered to help in the coming days and weeks. We can always use a hand so please stop by and do whatever you can. We would love to have volunteers in the welcome center most days, and we always have weeds to pull. Continue to invite your family and friends to come and check it out and consider making a tax-deductible donation to The Friends of St Nicholas. Stations and bricks are also still available for sponsorship.
---
June 6 2021 Pictures
Mass Schedule
| | |
| --- | --- |
| Tue | No Mass |
| Wed | No Mass |
| Thu | No Mass |
| Fri | 6:00pm |
| Sat | No Mass |
| Sun | 10:00am |
| Mon | No Mass |
All Services