St. Nicholas Catholic Church, Carver, MN
Announcements
6/30 Letter from Father Deziel
Everyone is welcome to enjoy the serenity and peacefulness of our prayer garden. We invite you to enjoy the sweet fragrance of hundreds of roses in full bloom. If the spirit moves you, we welcome all volunteers of any interest or skill level as we have many opportunities.
Father Deziel's Farwell Mass was June 23, you can still send Father a card at Annunciation Catholic Church, his new address is:
Father Deziel
509 West 54th Street
Minneapolis, MN 55419
Mass Schedule (at Guardian Angels)
The current mass schedule at Guardian Angels is 4 PM Saturdays, 8 AM, 10 AM and 12:30 PM (Spanish) Sundays. Please note that at this time no masses at St. Nicholas because of the size of our church. Please see the June 7 bulletin for important details for attending mass in person.
Even though churches are opening, the dispensation from the obligation to attend Sunday Mass continues. Be decree of the Archbishop, no one is obligated to attend Mass.
You can watch current and past Masses on the Livestream Mass and archive web page.
St Nicholas is open from 7:00 AM - 7:00 PM daily or silent individual prayer.
Archdiocesan Synod, Volunteers Needed:
We're in need of parishioners to represent St. Nicholas as Synod Ambassadors. The process is underway for the Archdiocesan Synod that will culminate on Pentecost Weekend in May 2021. If you can help please contact coordinator Larry Schmid at 612-670-7655.
Weekly Bulletin Emailed to You:
You can have the weekly bulletin automatically emailed to you. Follow this link to sign up and the bulletin will arrive to each each Thursday night.
Please continue to bring us your aluminum cans and drop them in the receptacle in the parking lot. Please do not place bags or boxes inside the collection unit, the recycling company has notified us they will no longer accept our cans if there are any bags or boxes inside the container.

Prayer Garden Video - August 2019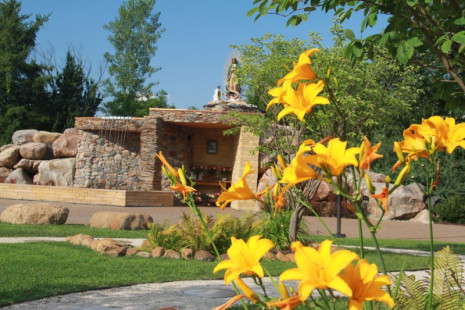 ---
Posted on: March 14, 2020
Coronavirus Parish Response
We have received some guidance from the archdiocese about steps that we can take at our parish and we have already begun them including:
Not offering the precious blood at mass
Hand sanitizer used by all Eucharistic ministers before communion
Not physically offering the sign of Peace nor physically greeting people at Mass.
Emptying the holy water fonts. Small bottles of holy water are available for you to sign yourself with and you may take the bottle with you in your purse, or pocket. Bring it with you to mass and use it to sign yourself, and your family.
For those who desire to receive communion on the tongue, please come to the priests line. All other Eucharistic ministers will distribute it in the hand.
Steps that you can take which I'm sure you've already heard already
Frequently wash your hands
Cover your cough into your sleeve preferably
Avoid gatherings anywhere, including Mass, if you are not feeling well and paragraph be aware of your own personal health risks giving your own health history and take steps to protect yourself
Don't hesitate to call or visit the clinic if you have a fever, cough or trouble breathing.
If the situation nationally and locally changes, other stronger measures will have to be taken. We will follow instructions from the civil authorities and church authorities if that is needed.
For now, let us all do our best with our personal and family hygiene practices. Let us turn to the Lord in prayer. Pray for those suffering from this disease, pray for those who have died, and pray for the healthcare workers who are courageously on the front lines of this battle, risking their own health for the benefit of others. Prayer is needed, humility is needed, and common sense is needed.
In Christ, Father Deziel