St. Nicholas Catholic Church, Carver, MN
Announcements
New Prayer Garden Video - 11/2020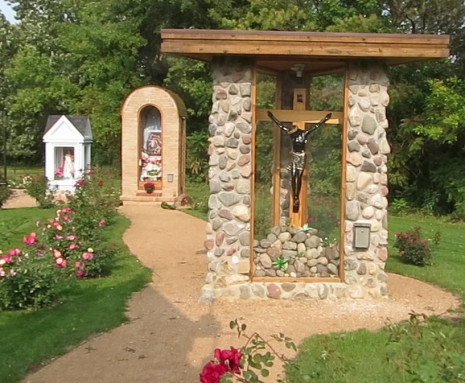 St. Nicholas Announcement - Upcoming Liturgies

Father Rolf Tollefson, our Parochial Administrator, has offered to celebrate Mass at St. Nicholas Church on the following dates and times:
Thanksgiving - November 26 - at 9:00 am
Feast of St. Nicholas - Sunday, December 6 - at 10:30 am
Christmas Day - December 25 - at 10:30 am
​For the Masses we will follow COVID protocols which include:
Maximum of 50% capacity while still maintaining 6-foot distancing between family units.
Brief health screening questions at check-in.
Facemasks are required
Require a reservation by contacting Deacon Jim Bauhs at deacon.jim.bauhs@gmail.com or (612) 405-0116. You will receive a confirmation of your accepted reservation.
To make this happen we will need volunteers:
To check in people and escort them to their pew.
Sanitize the church and Parish Center after Mass.
To volunteer please contact Deacon Jim Bauhs at deacon.jim.bauhs@gmail.com or (612) 405-0116.
---
Faith Formation October Bulletin
See what our children are up to - October Bulletin
---
Future of St Nicholas - Oct 28 Update
- See past updates here.
2020-2021 Faith Formation
The 2020-2021 Faith Formation program is up and running. The Faith Formation page has sign up information. Contact Barbara Minzel at 612-310-3612 if you have additional questions.
Weekly Bulletin Emailed to You:
You can have the weekly bulletin automatically emailed to you. Follow this link to sign up and the bulletin will arrive to each each Thursday night.
Everyone is welcome to enjoy the serenity and peacefulness of our prayer garden. We invite you to enjoy the sweet fragrance of hundreds of roses in full bloom. If the spirit moves you, we welcome all volunteers of any interest or skill level as we have many opportunities.
Please continue to bring us your aluminum cans and drop them in the receptacle in the parking lot. Please do not place bags or boxes inside the collection unit, the recycling company has notified us they will no longer accept our cans if there are any bags or boxes inside the container.
---
Posted on: August 26, 2020