St. Nicholas Catholic Church, Carver, MN
Announcements
---
January 9 Update from Deacon Jim
St. Nicholas Parishioners,
The Archbishop asked for our input regarding the future of St. Nicholas Catholic Church and parish. I am pleased to tell you that on Wednesday, Dec 30, I delivered our recommendation to the Archbishop.
We followed a process where together we prayed, worshipped, and discerned how best to fulfill the request made of us. Using U.S. Mail, we invited input from all the "Registered and Active" households. We also posted the survey invitation in the bulletin, on the parish webpage, and Facebook page. And lastly, we put out yard signs directing people to the web page and used a QR Code for easy access. These efforts resulted in receiving input from more than 160 households. A dedicated group of more than 20 parishioners met multiple times to help interpret the data and form the recommendation.
If you wish to see the full recommendation, 111 pages in seven sections, please contact me to arrange a date & time to meet in the parish office. Once we hear from the Archbishop, I will be sure to share that with you.
St. Nicholas continues to operate with Fr. Tollefson as the Parochial Administrator and me as the Parish Life Administrator. I ask for your continuing prayers and support for St. Nicholas Parish. If there is anything that I can do for you, please contact me at (612) 405-0116 or deacon.jim.bauhs@gmail.com.
Past communications are posted on the Future of S. Nicholas page.
---
​New Prayer Garden Video - November 2020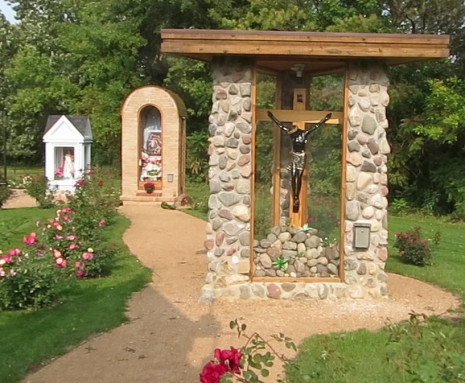 ---
Faith Formation October Bulletin
See what our children are up to - October Bulletin
Weekly Bulletin Emailed to You:
You can have the weekly bulletin automatically emailed to you. Follow this link to sign up and the bulletin will arrive to each each Thursday night.
Everyone is welcome to enjoy the serenity and peacefulness of our prayer garden. We welcome all volunteers of any interest or skill level as we have many opportunities.
Please continue to bring us your aluminum cans and drop them in the receptacle in the parking lot. Please do not place bags or boxes inside the collection unit, the recycling company has notified us they will no longer accept our cans if there are any bags or boxes inside the container.
---
Posted on: August 26, 2020