Holy Hour Prayer Next Saturday at the Cathedral
September 8, 2018
Next Saturday, September 15th, on the Feast of Our Lady of Sorrows, the priests of the archdiocese along with Archbishop Hebda and Bishop Cozzens will gather to pray a Holy Hour at the Cathedral in St. Paul at 11 AM. This prayer will be offered in reparation for the clergy sex abuse scandal that has so terribly harmed the many victims, and the entire church. The theme will be sorrow, repentance, devotion, and determination to prevent such tragedy from ever happening again. The intent of the prayer is to gather as many priests as possible from the archdiocese to pray together with the Archbishop on the feast day of our Sorrowful Mother. However, the lay faithful are also invited and most welcome to join in this important prayer.
We would like to send a bus from St. Nicholas and Guardian Angels. The bus will leave St. Nicholas at 9:30 AM and then Guardian Angels at 9:45 AM and arrive at the Cathedral about 10:30 AM. It will return after the prayer arriving at GA around 1:00 PM and Carver about 1:15 PM. Please call Jean at the parish office at GA, or Jodee at St. Nicholas to reserve a space on the bus. I will not be on the bus because I will be going earlier for a meeting with the priests and the Archbishop before the prayer. Please keep all victims of abuse, all priests, and our bishops and the Holy Father, and all the laity in your prayers during these challenging times. Jesus is the light of the World and as we entrust all of this to Him and to our Blessed Mother, the light of Christ will outshine the darkness of sin and his resurrection triumph over all death and destruction.
Your Servant in Christ,
Fr. Deziel
Our Lady of Good Health Novena approaching!
August 24, 2018
As noted in last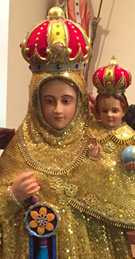 week's bulletins, one of the shrines in our prayer garden is for Our Lady of Vailankanni, also known as Our Lady of Good Health. This commemorates appearances of the Blessed Mother in India in the 16th and 17th centuries. It is believed that the Blessed Mother appeared a number of times holding the infant child Jesus in her arms. During one occurrence, she asked a young boy for some milk and he willingly gave it to her even though his family was in need. When he returned home he found that his milk jug was still full even though he had offered it to her. She also is credited with saving Portuguese sailors who were rescued from a storm at sea through her presence and intercession.
We're all in need of good health and what a beautiful way to ask our Blessed Mother for her intercession. Our novena to Our Lady of Good Health will begin this Thursday evening, August 30, at 7 PM and occur each evening at 7 PM for 9 days. All are welcome; you're also encouraged to bring a lawn chair for seating in the prayer garden. The prayers last about 30 minutes or less and the novena will conclude at our regular Saturday 7 PM Mass on September 8 (that Mass will be no longer than usual). Please join us for one or all of the evenings of this special prayer novena to Our Lady of Vailankanni. Our Lady of Good Health, Pray for us!
Your Servant in Christ,
Fr. Deziel
Mission Appeal This Weekend
August 18, 2018
Mission Appeal This Weekend! This weekend we welcome Fr. Ostrowski from Divine Word Missionaries. He is our Archdiocesan assigned mission preacher for this year. I realize that we just had my good friend Fr. Augustine Mbiche from Tanzania last weekend that also made an appeal, so I apologize for these two appeals being on back to back weekends. The original plan was for this weekend's appeal to be the weekend of July 8, however, shortly before that weekend, we were informed that it needed to be rescheduled and this weekend was the only one that worked out.
I thank you for your generosity in whatever you may be able to offer, and I ask for your understanding for these two mission appeals that are so closely scheduled together.
When we think about it though, God is always blessing us, and God has blessed each of us this past week. The Lord simply asks that we return joyfully the blessings that He so generously gives to us. I thank you for your Support of Fr. Augustine last weekend, and I thank you for whatever you may be able to offer this week.
Mass Schedule
English
Fri

6:00pm

Sat

4:00pm

,

7:00pm

Sun

9:15am

Mon
No Mass
Tue

7:00am

Wed
No Mass
Thu

7:00am
Spanish
All Services