St. Nicholas Catholic Church, Carver, MN
Announcements
6/30 Letter from Father Deziel
6/27 Reminders

Father Tony will begin at GA with 8 AM daily mass on Wed July 1
Deacon Jim will begin at St Nicholas on Wed July 1, but no masses are scheduled at this time

Father Deziel's Farewell
Father Deziel's Farwell Mass was June 23, you can still send Father a card at Annunciation Catholic Church, his new address is:
Father Deziel
509 West 54th Street
Minneapolis, MN 55419
Mass Schedule (at Guardian Angels)
The current mass schedule at Guardian Angels is 4 PM Saturdays, 8 AM, 10 AM and 12:30 PM (Spanish) Sundays. Please note that at this time no masses at St. Nicholas because of the size of our church. Please see the June 7 bulletin for important details for attending mass in person.
Even though churches are opening, the dispensation from the obligation to attend Sunday Mass continues. Be decree of the Archbishop, no one is obligated to attend Mass.
You can watch current and past Masses on the Livestream Mass and archive web page.
Announcing Fr. Deziel's replacement beginning July 1.
St Nicholas is open from 7:00 AM - 7:00 PM daily or silent individual prayer.
Archdiocesan Synod, Volunteers Needed:
We're in need of parishioners to represent St. Nicholas as Synod Ambassadors. The process is underway for the Archdiocesan Synod that will culminate on Pentecost Weekend in May 2021. If you can help please contact coordinator Larry Schmid at 612-670-7655.
Tuesday, 12:30 PM - 4:00 PM
Thursday, 12:30 PM - 4:00 PM
If you need assistance outside of these hours please call (952) 448-2345 or (952) 227-4000
Weekly Bulletin Emailed to You:
You can have the weekly bulletin automatically emailed to you. Follow this link to sign up and the bulletin will arrive to each each Thursday night.
Please continue to bring us your aluminum cans and drop them in the receptacle in the parking lot. Please do not place bags or boxes inside the collection unit, the recycling company has notified us they will no longer accept our cans if there are any bags or boxes inside the container.

Prayer Garden Video - August 2019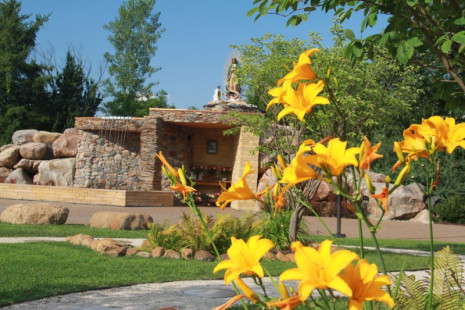 Everyone is welcome to enjoy the serenity and peacefulness of our prayer garden. We invite you to enjoy the sweet fragrance of hundreds of roses in full bloom. If the spirit moves you, we welcome all volunteers of any interest or skill level as we have many opportunities. Please contact Debra or Lynn or Jean at the St. Nicholas parish office for further information.
---
Posted on: December 21, 2019
Merry Christmas!
Merry Christmas!
A very Merry Christmas to all parishioners of Saint Nicholas and Guardian Angels! What a joy it is to celebrate Christ's birthday together as a parish family! When we gather as a people to celebrate Christmas we not only remember the birth of our Lord two thousand plus years ago, but we celebrate his presence with us today! The same Jesus born in Bethlehem is present at every mass in his most precious Body and Blood! The gift which he himself gave to us! That is truly amazing when we reflect upon it. Thank you, Jesus for coming into our world, our hearts, our lives with your saving Grace! Thank you for the gift of the Eucharist in which you are so powerfully present to us today! Merry Christmas!
Father Deziel