2019 Fall Festival
Fall Festival is next weekend (September 7-8) coinciding with the annual Carver Steamboat Days celebration. Be sure to stop by St. Nicholas as we celebrate our 150th Anniversary and Annual Fall Festival with a Polka Mass, German Dinner, Steamer 5K Fun Run & Lil' Steamers Run, Silent Auction, Fun for Kids, Pull Tabs, Raffle and Pancake Breakfast!
Volunteer shifts are available! To help sign up here.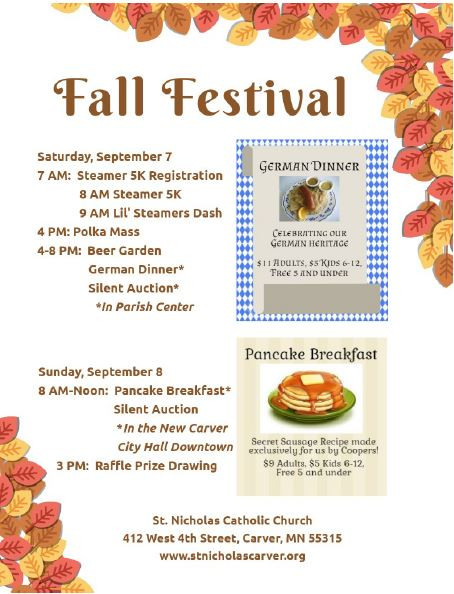 Polka Mass & German Dinner
At Fall Festival this year we'll continue to celebrate our 150th Anniversary and honor our German roots with a Polka Mass at 4 PM on Saturday, September 7! There will also be a German Dinner from 4 - 8 PM, after the Polka Mass the band will move outside under the beer tent and continue to play!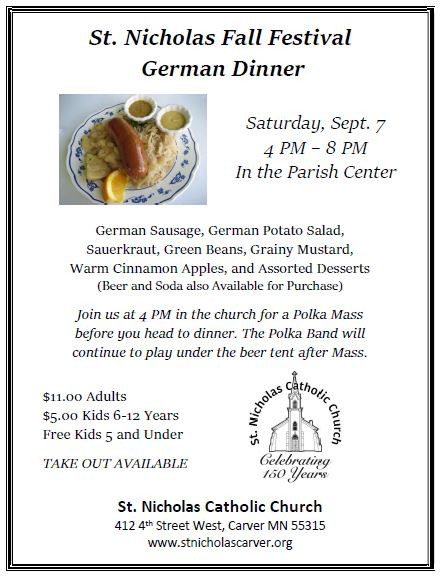 Sunday at The Brand New Carver City Hall!
We have the opportunity to move our popular Pancake Breakfast back to Carver City Hall which is brand new and gives the community the chance to not only see the new space but also support St. Nicholas! We'll move the Silent Auction items there on Sunday so you'll have a chance to get your final bids in before the Grande Parade and we'll also hold the 3 PM Raffle Drawing at City Hall.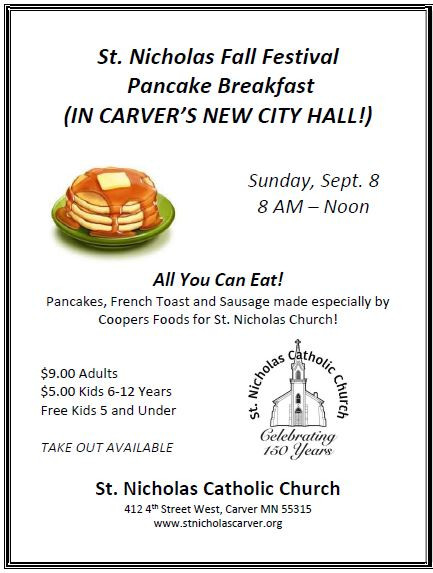 Steamboat Days Raffle
Each year we have a fantastic raffle! Raffle tickets are $2.00, the raffle is held at the end of the Festival on Sunday at St. Nicholas. You don't need to be present to win.
You'll be able to purchase tickets prior to the event from a parishioner, at our office, and downtown at Carver Steamboat Day's.
CURRENT PRIZES (check back for updates)
$300 Cash
$200 Cash
(4) $50 Cash
1/2 Hog (processed to your specifications)
18 Qt. Roaster
Case of Gedney Baby Dills
4 Nickelodeon Universe All Day Wristbands
$25 Maynard's Gift Card
$25 Chaska Laundry Center Gift Certificate
$20 Mustard Seed Gift Card
$10 Lions Tap Gift Certificate
$10 Caribou Coffee Gift Card
$10 Starbucks Gift Card
$10 Subway Gift Card
$10 McDonalds Gift Card
$10 Chipotle Gift Card
Chick-fil-A Free Entree Gift Card
Steamer 5K
Please see all info on the Steamer 5K and Lil' Steamers Dash on it's dedicated page here!
Mass Schedule
| | |
| --- | --- |
| Mon | No Mass |
| Tue | No Mass |
| Wed | No Mass |
| Thu | No Mass |
| Fri | 6:00pm |
| Sat | 4:00pm |
| Sun | 9:15am |
All Services