Special Collection this Weekend for Clergy Abuse
July 27, 2018
Special collection this weekend for victims of clergy abuse
One provision of the recent Archdiocesan bankruptcy settlement allows for parishes to offer a financial contribution for the victims of the child clergy sexual abuse scandal. All the parties in the bankruptcy settlement have agreed that everything offered in this special collection will go only to the victims of the clergy abuse. The parish collections will be pooled and then distributed by court approval to individuals who have been abused with varying amounts depending on the severity of the abuse of each individual victim. The terms of the settlement assure that absolutely none of the collection will go to any lawyers, the archdiocese, the insurance companies, or to anyone else but the victims. The full 100% of the collection will go to the victims and only to them. I know that there are many opinions about taking up such a collection, and I fully respect the wide range of views and concerns that people have. Some people, angry at the Archdiocese, have told me that they will not offer a dime to this effort. Others have said that the settlement is enough already and no more need be given. Others have told me that they welcome this opportunity to give something to the victims as a way of showing the concern and care from the people in the pew. And of course, there are many other legitimate opinions as well. So, each of us must simply do what we think is best. This collection is simply an opportunity to do something if you would like to. I plan to offer something as a way of personally expressing my concern, but no one is expected to offer anything. If you were not prepared for the collection today, please take an envelope from back of church and return it no later than August 19. That way we can submit the total collected by August 21 in accord with the bankruptcy agreement. As many people have commented, money will not solve the problem. The healing that so many victims need will come from a deep sense of God's infinite love for them, and from the love, care, and concern offered by others. With God, all things are possible, and God is the one who is the great healer. But, this offering may be seen as a gesture of goodwill for those who have suffered so terribly by the leaders of the Church. The victims/survivors were all minors at the time of the abuse. They were young children or teen youth who were terribly scarred by what happened to them through no fault of their own. Priests who were supposed to be protecting them as their Good Shepherd, sadly caused them great harm with the effects lasting for decades. The archdiocesan bankruptcy settlement provides much compensation through insurance and the sale of Archdiocesan assets. And while our parish collection is small in comparison, it is one way that we, the people in our local parishes, can express our care and concern for our brothers and sisters in Christ who have been so terribly harmed. We offer our prayers for the healing of all victims/survivors of abuse, and we offer prayers for the healing of the Church. We pray that nothing like this ever happens again. Jesu, Mary and Joseph, pray for us!
Your Servant in Christ, Fr. Deziel
4th of July Gratitude
July 2, 2018

4th of July Gratitude! The past couple of weeks, we have all seen heart rendering images and stories of families separated at the border as they try to come to into the United States seeking a better life. I realize that there are lots of different opinions on what our immigration policies and border law should be, and all of this clearly needs to be discussed, debated, and thoughtfully considered. However, one thing that we should all take away from this is to remember that we live in an incredibly blessed country, and that many people would literally do anything to come here. People walk a thousand miles or more, facing dangerous conditions that threaten their safety and their lives and that of their children, just to come here. We are so blessed to live in America, and we must never forget that. We have freedoms, law and order, and material wealth that are indeed the envy of the world. With these great blessings comes great responsibility. We must each seek to live lives worthy of the great blessings that we enjoy. We have an obligation to live with deep gratitude and of virtuous purpose and of willing service towards our neighbor. Our freedoms have not come cheap. Many have sacrificed and given their lives for us, and we are forever grateful to them. Our freedoms and blessings are not to be squandered. Our freedoms and blessings should inspire us to be the best people that we can be and to do what we can for those less fortunate. Our freedoms and blessings should inspire us to praise and thank God daily for His great goodness to us. This 4th of July, as you gather with family and friends, please pause for a moment to reflect on the great blessing that we have just to be able to live in this great country. Those in desperation at our borders remind us of just how blessed we are, and they powerfully remind us not to take these blessings lightly. God is so good to us, and in return we are called by God to be good to others.
Vacation! This week, I'll begin my summer vacation starting on Sunday. I don't have any big plans at this time, as I often make it up as I go along. But, I do plan to spend some time with family at the family lake cabin at Bone Lake in Wisconsin, and perhaps travel around the Midwest and visit other family members in Wisconsin and Chicago. I will pray for all of you as I travel, and I ask you to please pray for me. Fr. Galarza will be here on duty at both St. Nicholas and Guardian Angels, and I'll be back in the saddle again on the weekend of July 14 & 15.
Happy 4th of July,
Fr. Deziel
Another Busy Week
June 16, 2018
We continue to make great progress in cleaning up the property and making improvements. The tree work was completed last week thanks to EB Tree Service. The spray foam insulation was installed in the basement of the rectory this past Monday by Kohls Foam Systems. This will help improve energy efficiency and reduce pests in the rectory. Lee's Garage Doors of Carver installed two new garage doors on the garage this past Wednesday. They look so much better than the old ones. Thanks to those who have been making contributions to the Building Fund as that is how we are able to do these necessary repairs and improvements. Please consider making a regular contribution to the Building Fund if you do not do so already. We also thank the faithful volunteers who help with lawn mowing and welcome you to come and join the team to help in any way that you can with maintaining our beautiful property here on the hill!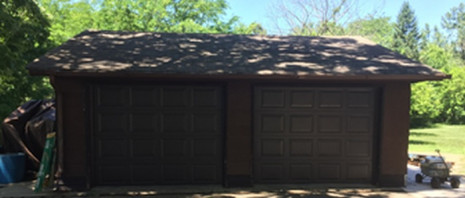 Mass Schedule
English
Tue

7:00am

Wed
No Mass
Thu

7:00am

Fri

6:00pm

Sat

4:00pm

,

7:00pm

Sun

9:15am

Mon
No Mass
Spanish
All Services