Another Busy Week
June 16, 2018
We continue to make great progress in cleaning up the property and making improvements. The tree work was completed last week thanks to EB Tree Service. The spray foam insulation was installed in the basement of the rectory this past Monday by Kohls Foam Systems. This will help improve energy efficiency and reduce pests in the rectory. Lee's Garage Doors of Carver installed two new garage doors on the garage this past Wednesday. They look so much better than the old ones. Thanks to those who have been making contributions to the Building Fund as that is how we are able to do these necessary repairs and improvements. Please consider making a regular contribution to the Building Fund if you do not do so already. We also thank the faithful volunteers who help with lawn mowing and welcome you to come and join the team to help in any way that you can with maintaining our beautiful property here on the hill!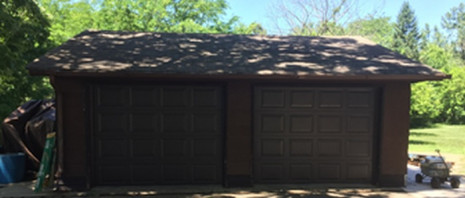 Rectory Move
June 8, 2018
Rectory Moves! This week I moved into the rectory here at St. Nicholas in Carver, and Fr. Galarza and his mother, Maria, moved into the rectory at Guardian Angels. This will be a better living arrangement for Mrs. Galarza, and I and Fr. Galarza are happy to make this change. Fr. Galarza and I will continue serving at both parishes and nothing will change in our ministry or schedule. This is simply about where we are residing.
Your Servant in Christ,
Fr. Deziel
Feast of Corpus Christi
June 2, 2018
Corpus Christi! This weekend we celebrate the Solemnity of the Most Holy Body and Blood of Christ, also known by its Latin name Corpus Christi. The feast day celebrates the real presence of Jesus Christ in the Holy Eucharist—Body, Blood, Soul, and Divinity. We celebrate Corpus Christi on the Sunday following the Holy Trinity. A nun, St. Juliana of Mont Cornillon from Belgium, had a great veneration for the Blessed Sacrament and always longed for a special feast in its honor. She had a vision of the Church under the appearance of the full moon having one dark spot, which signified the absence of such a solemnity. In 1263, a German priest, Fr. Peter of Prague, made a pilgrimage to Rome. He was struggling with the current debate at that time surrounding doubts about the Body and Blood of Christ being actually present in the consecrated bread and wine. As Fr. Peter said the prayer of consecration during one Mass, blood started seeping from the consecrated host and onto the altar and corporal. This Eucharistic Miracle confirmed the visions given to St. Juliana and helped further her cause to establish a liturgical feast for the Holy Eucharist, which she was very passionate about. Soon after her death, Pope Urban instituted Corpus Christi for the Universal Church and celebrated it for the first time in Orvieto in 1264, a year after the Eucharistic Miracle in Bolsena.
Mass Schedule
English
Sat

4:00pm

,

7:00pm

Sun

9:15am

Mon
No Mass
Tue

7:00am

Wed
No Mass
Thu

7:00am

Fri

6:00pm
Spanish
All Services